It is my honor to serve ACG community as Vice Chairman and I am committed to dedicate myself to assisting Chairman with ACG mission and task in every way to make ACG a better platform for all the members, and to ensure that ACG will strive for much greater heights and achievements.
Economic circumstances and business environment are changing rapidly with new technology. In response, we will take full responsibility and advantage of ACG's unique platform capabilities to bring together expertise, innovation and new ideas to optimize members' business portfolio, renew the core value of CSD in Asia-Pacific region, and open new doors of opportunities for collaboration.
Thank you for your support and look forward to working with your participation.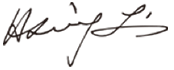 Sherman Lin
ACG Vice Chairman